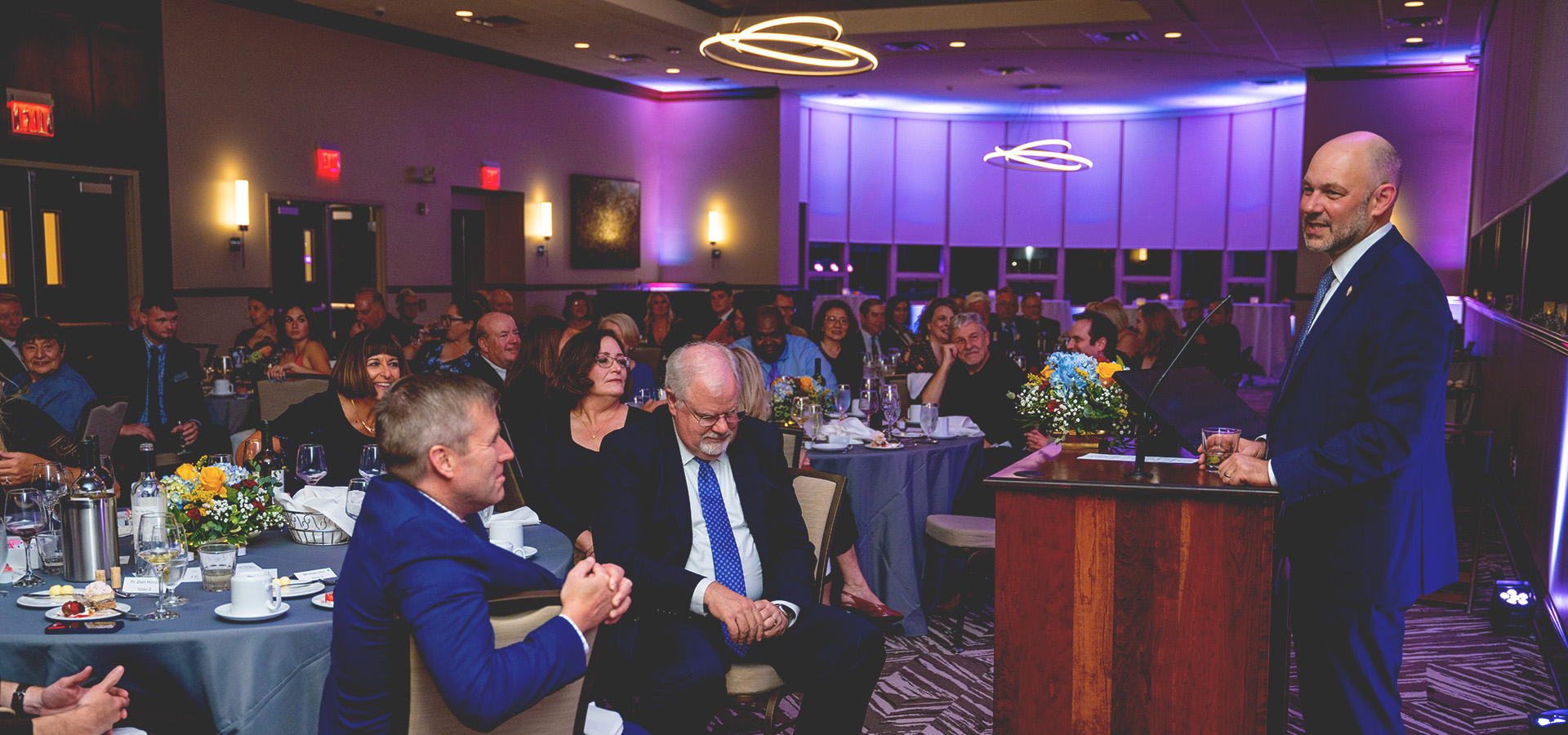 A well-planned corporate event brings people together in creative ways and leaves a lasting impression, but a haphazard one will have people looking for the door.
Whether you're holding a trade show, gala, board meeting or award ceremony, engaging and inspiring attendees is a significant undertaking filled with countless little details. To ensure your corporate event is set up for success, we've made an easy to reference corporate event planning checklist.
8-12 months out
Set event goals and desired outcomes
This will provide a clear direction for your corporate event planning, which will guide your decisions throughout the entire process.
What is your corporate event's main purpose?
How many people do you want to attend in person?
If your event should be profitable, how much do you want to make?
Where will you host your event?
Will it be in-person or hybrid?
How many attendees do you expect?
Establish a ballpark budget
A rough budget will help you estimate the overall cost of the event and ensure you can stay within a set cost.
To guide you:
Reference similar figures from past events for a baseline
List out all necessary expenses
Fill in the gaps with internet research
Make sure there is room for a contingency. There will always be an unexpected expense that comes up, whether it is extra rental tables or a last-minute menu addition.
Choose a date
You can't plan an event without a date! When selecting, keep in mind holidays, vacations, community events to avoid potential scheduling conflicts.
Here are some tips for picking a strong date:
Choose a preferred date and a backup when getting sign-off
Check with the venue and verify that date isn't already booked
Double check your company's calendar and avoid scheduling your event too close to important meetings or deadlines
Choose a location and venue
The venue will ultimately depend on the size of your event. But it's also important to consider options that offer everything you need and don't want to outsource. For example, if you don't want to work with a catering company, then you should search for an event venue that offers in-house catering services.
To help you choose the perfect venue, ask yourself the following questions:
What geographic area is best for your event?
What is the capacity limit of the venue?
How much does the venue cost? Does it fit your budget?
Will WiFi be provided? Is there livestreaming support?
Is audio-visual equipment included?
Are there local vendors you can leverage?
Does the venue provide catering?
You can also schedule venue tours to help narrow down your selection. Think about the location and travel time for your guests. Make sure it's accessible for the type of audience you are planning to accommodate.
Select a format and theme
A theme sets the tone for your corporate event and can drive home your overall purpose and message. The format, whether in-person, virtual or hybrid, also impacts decisions made along the way.
To guide you:
Brainstorm formats that will fit your unique goals
Gather input from key stakeholders
Consider who's attending your corporate event and choose a theme that will resonate with that target audience
Create your guest list
Your guest list should align with the goals of your program. For example, if you're hosting an awards ceremony, all honorees should be invited. A guest list will help you ensure the number of guests is within your budget as well.
To guide you:
Review your event's purpose and target audience
Keep in mind your venue's capacity limit
Identify key categories of stakeholders, like customers, employees, clients, and investors
Leverage your professional network
Collect contact information and maintain a database
When all the above is settled, you can move onto the physical invite, which should include the most important information including date, time, location and agenda.
Research speakers
A strong speaker can keep your guests engaged while also reinforcing your event's purpose. Unless you are planning your event 2-3 years in advance, your dream speaker may already be booked. So it's important to approach this task with an open mind.
To help with your search, you can:
Research speakers who have spoken at company events similar to yours
Compile a list of your ideal speakers
Compare the costs of different speakers on your list
Know your speaker's reputation because it could impact the perception of your event. Your speaker should align with your company's values.
Contact your ideal speaker and verify their availability
Identify any other entertainment ideas you can add
Begin sponsor search
Sponsors can help provide support and resources to your event, including cash donation and merchandise. Securing a sponsor can also help increase your reach and broaden your audience.
To guide you:
Look at similar events and see who sponsored them
Consider who your audience is, their interests, and what kind of sponsors they may be interested in
Compile a list of your ideal sponsors
Determine the market rate of your sponsorship packages
3-4 months out
Once you have the foundation, you can start confirming the details of your corporate event.
Finalize your speaker(s)
All speakers should be confirmed 3-4 months out to provide them with enough time to prepare their presentations. This also gives you the time to determine the A/V and stage setup. You can also obtain bio information and photos and arrange any necessary travel accommodations.
Organize your financials
This is a good time to review your budget and make any necessary changes to keep you within it. You should also finalize your sponsor contributions as well as your ticket prices.
When setting a ticket price, consider the following:
How much are similar events charging per ticket?
What value are you delivering to your attendees?
How many sponsors have you managed to secure?
What is your minimum break-even point, and how much of a profit would you like to make on each guest?
Create a branded website
A website is a centralized location where attendees can find information and updates about your event. It can also create a strong brand presence and increase visibility.
Update your site or build a new event site
Craft copy and images that tell the attendee what they can expect from the event
Make sure your website can handle the increased traffic
Send invite to attendees
Whether it's physical invites in the mail or a digital version via email, you will want to alert attendees of your invite. The invitation should include all pertinent information such as the date, time and location of your event, plus how you'd like people to RSVP.
Promote your event
You have an event, now make sure people attend it!
When promoting your corporate event, you could do the following:
Drive early interest with email and social media
Consider paid advertising
Post about your event online via event calendars
Write blog posts about your event
Create a promo video
Determine appropriate room setups
Room arrangements play an important role in how attendees will participate in your event. From half-moon to theater to living room-style, it's recommended that you work closely with your event management team to determine what layout will keep everyone engaged throughout the program.
Determine if additional equipment rentals are needed
Decide if the space requires any additional equipment such as dance floors, podiums or tents to further elevate the experience.
Finalize catering menu
Guests always remember the food! It's important to work closely with the catering team to determine a menu that will keep everyone energized throughout the day while meeting all dietary restrictions.
Finalize A/V package
Make sure all presentations, video conferencing and guest speakers are powered for success with a well-rounded A/V package.
Draft an event schedule
In order to manage your time effectively, it's recommended that you create a sample schedule that allows you to make necessary adjustments.
To guide you:
Create a working draft of your event's schedule
Balance your agenda to accommodate for appropriate breaks between activities
Incorporate interactive activities and icebreakers
2 months out
Your event is almost here! It's time to build excitement and conduct one more push for registration (if you haven't sold out yet)!
Send reminders to attendees
Reminders help boost attendance and convey critical information about your event.
Connect with invitees on email and social media
Reach out to speakers, panelists, and sponsors to ensure they're ready
Contact vendors to confirm their commitments
Expect the unexpected!
Better handle curveballs by doing the following:
Design a backup plan should things not go according to plan
Keep attendees updated on any change in plans
The week before
Dot your i's and cross your t's for the final big push before your event.
Finalize the event schedule and script
Review and revise your schedule and script and make any last minute adjustments. Then, get the final sign-off from necessary parties.
Provide final count to venue and caterer
This number will affect many aspects of your event, from seating to the amount of food your caterer will need to order so it's important to share that final count.
Firm up final expenses
Include any last minute expenses to your budget sheet. You can also compare the final amount against the projected expenses. It's perfectly acceptable if you have differences here and there, but what's important is having a final record.
Stay in touch with your attendees
Keep an open line of communication with guests. Inform them of any changes.
Don't forget! We're here to help.
If this corporate event planning checklist seems like a lot of responsibility, that's because it is! But St. Bonavenue is here to help! Our dedicated event management team can guide you every step of the way. We offer on-site catering, A/V services, equipment rentals and lodging for a seamless event experience.
Talk to us about your event today! We will work hard to bring your unique taste, style and budget together for an event that leaves a lasting impression on your guests.
Take This Resource With You
Download as a PDF for easy reference or printing.
Download PDF